A Message from Our Founder
Hello! I'm De J. Lozada and I'm the founder of Soul Popped Gourmet Popcorn. I created Soul Popped because I wanted to share my love for Soul Food with my family and friends without wrecking their health. So one day I went into my kitchen, and using only the real food ingredients I found there, I created this one-of-a-kind snack that transforms popcorn into a true Soul Food experience.
It's hard to believe that we've come so far so fast. In less than 2 years, we've gone from selling popcorn from a food truck pavilion to being a vendor at the largest farmer's markets in Central Texas. We've also been featured on national TV, entertained offers from major big box grocery stores and are now selling worldwide on Amazon!
We owe our success to our growing legion of enthusiastic brand ambassadors we affectionately call our Soul Poppers. These early adopters make up Soul Popped Nation, the place all Soul Poppers can gather to share their love of Soul Popped Gourmet Popcorn with their family and friends.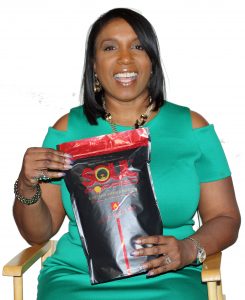 We're all about building relationships, not just transactions. That's why we genuinely love hearing from our customers and sharing in their successes too.
We hope you'll join our community of Soul Poppers by finding your favorite flavors of Soul Popped Gourmet Popcorn. You may shop us on Amazon anytime or find us soon at a premium grocery store near you.
Welcome to Soul Popped Nation!